By Jason Nelson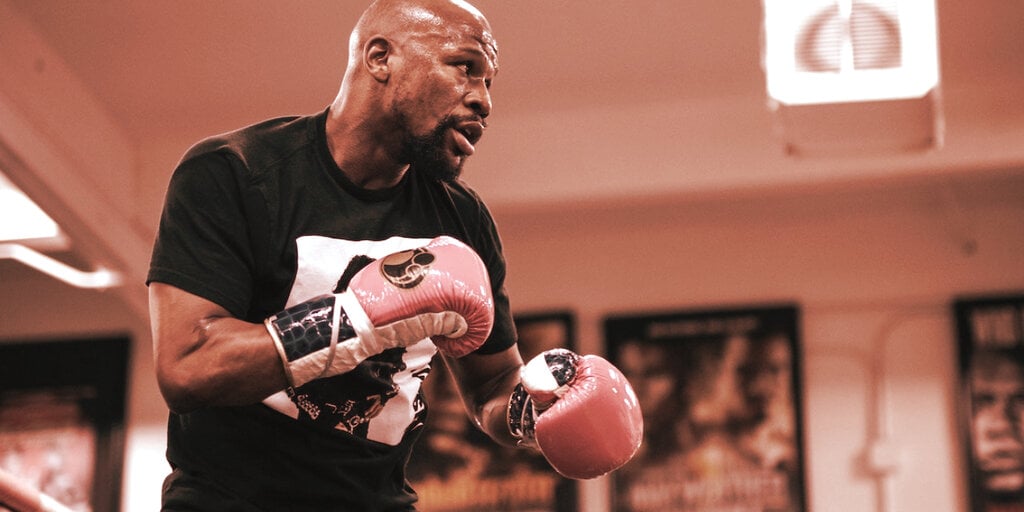 Boxing icon Floyd Mayweather Jr. today announced the launch of his own line of NFTs—just in time for his return to the ring.
In partnership with NFT provider IronBend, blockchain entertainment publisher Reality Gaming Group, and NFT production company Zytara Labs, Mayweather is set to drop a "limited edition digital collection" on May 26, per a press release.
NFTs are non-fungible, blockchain-based tokens that can be used to represent ownership in digital artifacts on the internet, including images, videos, or even a tweet. The market for NFTs exploded within the last year, particularly within the digital art world. In Q1 2021, NFTs generated more than $1.5 billion in sales, according to data from DappRadar.
Mayweather joins a growing list of athletes and celebrities to enter the NFT space, including Rob Gronkowski, Kevin Smith, Paris Hilton, Snoop Dogg, Eminem, and Lindsey Lohan. The boxer is set to release his own NFTs less than two weeks before his June 6 bout with YouTuber Logan Paul, who himself has reportedly made millions off of the NFT boom.
Mayweather's NFTs will feature a "celebration" of his life and career and will include animations, artwork, and personal keepsake, according to the release. "These digital collectibles give everyone a chance to be part of the Mayweather Legacy," the undefeated boxer said in a statement.
While the "Legacy Collection" may be Mayweather's first foray with NFTs, this isn't the first time that the boxer has used his name to promote a cryptocurrency product. Back in mid-2017, Floyd famously asked his Twitter followers to call him "Crypto Mayweather from now on," as he promoted crypto startups selling tokens in ICOs.
You can call me Floyd Crypto Mayweather from now on #HubiiNetwork #ICO starts tomorrow! Smart contracts for sports?! #CryptoMediaGroup #ad
pic.twitter.com/25GoMPuS7r
— Floyd Mayweather (@FloydMayweather) August 23, 2017
In November 2018, the SEC slapped Mayweather with a $600,000 fine for "unlawfully touting coin offerings," including the infamous Centra Tech ICO. Centra Tech co-founders have since pleaded guilty to fraud, with one co-founder recently receiving a prison sentence of eight years.