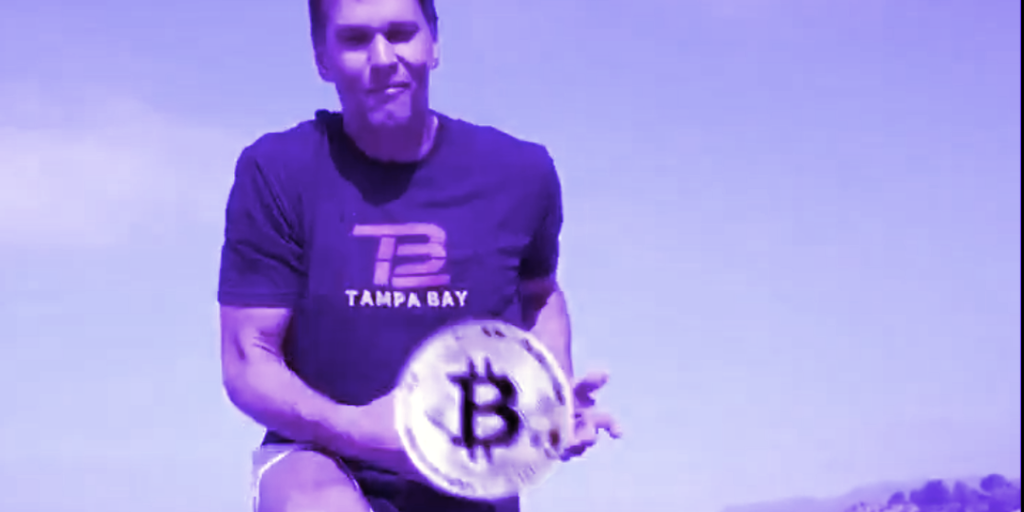 Tampa Bay quarterback Tom Brady threw his 600th touchdown pass on Sunday, but his tight end unwittingly tossed the historical game ball to a fan in the stands—meaning Brady and his team, the Buccaneers, had to retrieve it.
The ball recipient, a Bucs fan named Byron Kennedy, promptly gave the ball back to the team. But Brady nonetheless offered him a gift in the form of signed jerseys and a helmet, as well as seasons tickets for next year and the rest of this one.
Then on Monday the NFL legend revealed he had thrown in an even more valuable prize—a Bitcoin, which is currently worth more than $60,000. Speaking to ESPN, Brady joked that Kennedy made a mistake in giving the ball back right away:
Tom Brady said the Bucs fan lost all his leverage once he gave up the 600th TD ball.
But Brady is giving him a bitcoin
pic.twitter.com/upGBpmcMDS
— SportsCenter (@SportsCenter) October 26, 2021
In the ESPN segment, host Peyton Manning jokingly asks Brady if the ball is in Canton, Ohio—where the NFL hall-of-fame is located—or if Brady had made it into an NFT.
Brady responds by plugging Autograph, an NFT-platform he co-launched this summer that has attracted numerous high profile athletes and celebrities.
"[The ball] will be an NFT shorty," said Brady. "[On] Autograph.io, you can go there to bid on it."
As for Kennedy, during a TV interview of his own on Monday, a sports reporter asked if we would like to renegotiate the package he received for returning the game ball.
"Renegotiate no. But maybe play a round of golf with Tom as a repayment. I think that would be pretty cool," said Kennedy.
Byron Kennedy did NOT want money from the @Buccaneers for that football. BUT, he tells me he does have one request. Can we make this happen, @TomBrady ??@nflnetwork pic.twitter.com/k6sQB16yMj
— Andrew Siciliano (@AndrewSiciliano) October 25, 2021
It was not clear if Kennedy made the remark before or after learning that the gift package included the Bitcoin. Neither Brady nor the Tampa Bay immediately commented on the golf request, which was reported by Sports Illustrated.
As of Monday night, an NFT of the game ball had yet to appear on Autograph.io, which offers other collectibles from famous athletes like Simone Biles and Derek Jeter, and which has recently added musician The Weekend and FTX founder Sam Bankman-Fried to its board.