The Peer-to-Peer trading marketplace Vertex Market implemented the Binance Smart Chain layer to resolve high transaction fees and long confirmation times.
On April 25, Vertex Market went offline for a few hours, while work on Binance Smart Chain implementation was done. In that very period the BNB Network went into small turbulence when Binance Exchange, which owns BSC netowork, have temporarily blocked BSC withdrawals. During that time, market price of BTC(BEP-2) have fluctuated on the market, but restored back to stable 1:1 to Bitcoin quickly.
BSC Improved Peer-to-Peer trading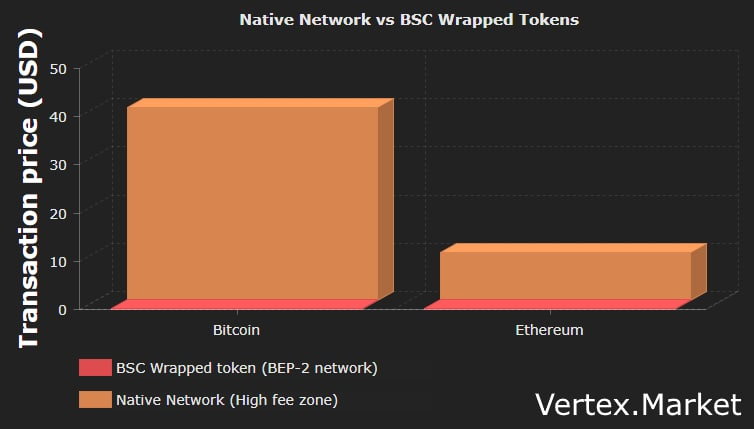 With addition of BSC features, traders are able to select their preferred network when they do withdrawals or deposit. The "Wrapped" versions of Bitcoin, Ethereum and USDT will be treaded same as their originals. This essentially means that trader can deposit wrapped Bitcoin and sell it like a regular one, where the buyer can select whether he wants wrapped or original Bitcoin as hes purchase. The rest is left for Vertex system to process and organize, making trading on Vertex a comfortable experience.
On P2P Exchanges many traders are only trading small amounts, making it near impossible to profit from trading. BSC changes that, as using BSC network traders save $20 on each of their transaction thanks to low fees on BSC network.
The BSC Network was added in partnership with Parsiq, which specializes on multi-chan smart trigger technology. The use of Parsiq's developments allowed Vertex Market to integrate BSC layer with existing 40+ payment providers on the Vertex Exchange.
What's next for Vertex?
Vertex is looking to add a lot more of bleeding edge P2P trading features, including improvements to existing trader reputation system, incentivizing trading on platform with token reward.
The new token is planned to be issued in next 2 months, allowing everyone to invest into trading reputation. Obviously it won't be as simple as buying reputation for your account with tokens, as they will be cleverly integrated into the system, but holding the tokens will surely be rewarded.
In other plans, the Vertex Market mentioned quick swap features that will allow people to quickly exchange crypto to crypto via the platform itself.
It's also possible that we will see fully fledged NFT Market on Vertex in next updates.
To stay tuned to Vertex news follow Vertex Twitter account: https://twitter.com/Vertexplatform