By Ekin Genç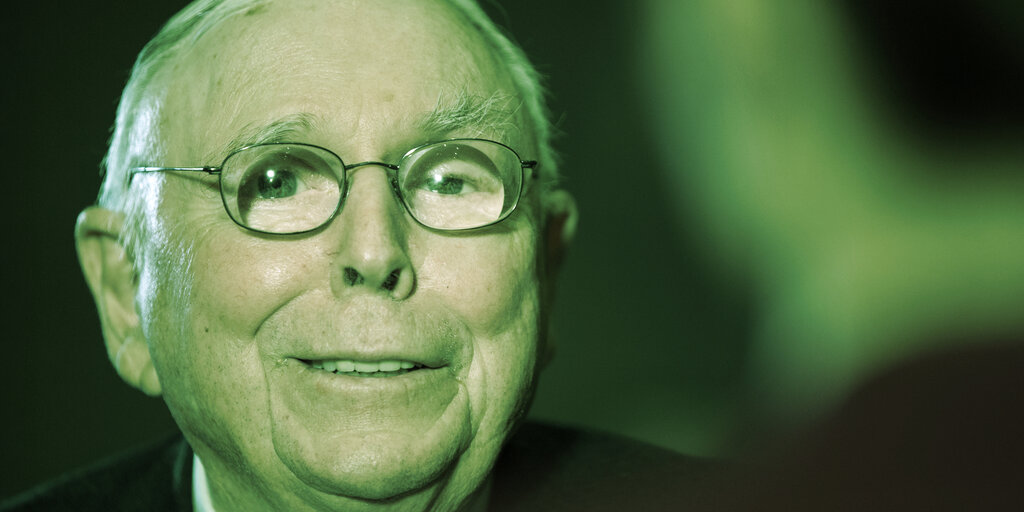 Charlie Munger, the 97-year-old American billionaire investor, hates Bitcoin's guts and wants everyone to know it.
Munger spoke yesterday at the annual shareholder meeting of Berkshire Hathaway, the conglomerate co-owned by his life-long business partner, 90-year-old Warren Buffett.
"Of course I hate the Bitcoin success," Charlie Munger says. "I should say modestly that I think whole damn development is disgusting and contrary to the interests of civilization, and I'll leave the criticism to others."

"I'm okay on that one," Warren Buffett adds. #YFBuffett pic.twitter.com/vfmEBCt4M4

— Yahoo Finance (@YahooFinance) May 1, 2021
"Of course, I hate the Bitcoin success, and I don't welcome a currency that's useful to kidnappers and extortionists, and so forth," said Munger, who serves as Berkshire Hathaway's vice-chairman.
"Nor do I like just shuffling out of extra billions and billions and billions of dollars to somebody who just invented a new financial product out of thin air," he said.
"So, I think I should say modestly that I think the whole damn development is disgusting and contrary to the interests of civilization."
Munger's attacks on Bitcoin riled up Crypto Twitter. In a wave of ad-hominem attacks, Munger was lambasted for everything from allegedly laundering billions of dollars to his relentless defense of his coke-drinking habits.
according to this, charlie munger drinks 700 calories of coca cola every day. 1 can is 140.

also in the article he says the health criticisms of soda are immature and stupid, referring to claims that soda is connected to obesity https://t.co/kfGYxWYMkt

— Neeraj K. Agrawal (@NeerajKA) May 2, 2021
But Buffett, who previously called Bitcoin "rat poison squared", chose not to join in on Munger's anti-Bitcoin tirade.
"I'm gonna dodge that question because we probably got hundreds of thousands of people watching that own bitcoin, and we probably have two people that are short," he said.
Buffett didn't want to rain on anyone's parade.
"So we got a choice of making 400,000 people mad at us and unhappy, and, or making two people happy, and that's just a dumb equation."
Bitcoin may be contrary to Charlie Munger's idea of civilization.

But for many less privileged than he, a neutral, open-source, permissionless, censorship/confiscation-resistant financial system beyond the control of corps + govts is *much* more civilized than the status quo. https://t.co/gFGsEY2ntN

— Alex Gladstein (@gladstein) May 1, 2021
Buffett first received Bitcoin in February 2020 at a charity dinner with Justin Sun, CEO of TRON. Sun had paid $4.6 million for the honor. But once a nocoiner, always a nocoiner: Buffett's ownership of Bitcoin doesn't appear to have changed his mind.
As for Munger, well, he at least called it a success.
The views and opinions expressed by the author are for informational purposes only and do not constitute financial, investment, or other advice.